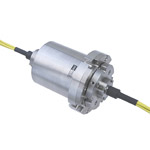 GNF4 Fiber Optic Rotary Joint
Single fiber optic rotary joint with single-mode and multi-mode options. While the multi-mode fibers can carry signals on several different paths or modes through the fiber core, single-mode fibers carry signals on only one path or mode of transmission. The advantage of single-mode is low attenuation with a very high data capacity.
GNF4 rotary joint with 4 fiber channel, can upports practically every data format,for analog data transmission,passive rotary connection.
GNF4 fiber optic rotary joint, 4 channel fiber(single mode or multi-mode),
Optical signal only or hybrid unit(optical+electric) is transmitted
Capsule and through bore fiber optic rotary joints are available
Fiber optic transimt signal is secretly,no electromagnetic interference
Features
4 channel single-mode/multi-mode
Insertion loss:<4dB
Low insertion loss, high speed
high grade sealing
Precision ball bearings for long life
Benefits
Fiber optic transimt signal is secretly
Small volume, light weight
360° continuous rotation
IP65
GNF1 Specfications
Wavelength range

850~1550nm

Insertion loss

<5dB

Return loss

>45 dB

Max. Operating Speed

200rmp

Type

SM / MM

Estimated life cycle

100 million revolutions

Optical power handling

23 dBm

Crosstalk

>50 dB
Working temperature

-20℃~+65℃

Housing material

Stainless steel

Protect Level

IP65

Pulling strength

10N

Start up torque

<1 Nm

Work Humidity

10% to 85% RH

--

--

--

--
Standard Series Slip Rings