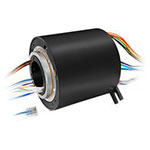 ETW50 Ethernet Slip Ring
Slip ring is a precision device can be used in any electromechanical system that transfer signal and power from a statinary to a state structive, and the power and all kinds of signal can combination in one slip ring.
ETW50 with 50 mm through hole, 1~4 Ethernet channel, signal and power combination options. More Ethernet channel can be customized.
through hole 50 mm, OD 119 mm, 1000M Ethernet + 1~22circuits power/signal
Could transmit 1000M Ethernet combined with power and signal
No packet loss,no string code,low return loss, low insertion loss
Gold-gold plating which ensures low BER(bit-error rate)and high noise-signal ratio
Features
Ethernet:1~4channel 100M/1000M baseT
BER(bit-error rate):10E-11
connectors:RJ45
insertion loss:2db
Precision ball bearings for long life
Benefits
Extremely compact
Low torque minimizes system torque budget
Custom mechanical integration features
360° continuous rotation
Rapid delivery
| MODEL | TOTAL CIRCUITS | AMPS / CIRCUITS | DATA SPEED | VOLTAGE(V) | LENGTH | LEAD WIRE LENGTH |
| --- | --- | --- | --- | --- | --- | --- |
| ETW501-04S | 12 | (4x) 2A, (1x) Ethernet | 1000Base-T | 240 | 2.99"(76mm) | 11.8"(300mm) |
| ETW501-0410 | 12 | (4x) 10A, (1x) Ethernet | 1000Base-T | 400 | 2.99"(76mm) | 11.8"(300mm) |
| ETW501-10S | 18 | (10x) 2A, (1x) Ethernet | 1000Base-T | 240 | 3.937"(100mm) | 11.8"(300mm) |
| ETW501-0210-08S | 18 | (2x) 10A, (8x) 2A, (1x) Ethernet | 1000Base-T | 400 | 3.937"(100mm) | 11.8"(300mm) |
| ETW501-16S | 24 | (16x) 2A, (1x) Ethernet | 1000Base-T | 240 | 4.881"(124mm) | 11.8"(300mm) |
| ETW501-1610 | 24 | (16x) 10A, (1x) Ethernet | 1000Base-T | 400 | 4.881"(124mm) | 11.8"(300mm) |
| ETW501-0410-12S | 24 | (4x) 10A, (12x) 2A, (1x) Ethernet | 1000Base-T | 400 | 4.881"(124mm) | 11.8"(300mm) |
| ETW501-22S | 30 | (22x) 2A, (1x) Ethernet | 1000Base-T | 240 | 5.827"(148mm) | 11.8"(300mm) |
| ETW501-0410-18S | 24 | (4x) 10A, (18x) 2A, (1x) Ethernet | 1000Base-T | 400 | 5.827"(148mm) | 11.8"(300mm) |
| ETW501-2210 | 30 | (22x) 10A, (1x) Ethernet | 1000Base-T | 400 | 5.827"(148mm) | 11.8"(300mm) |