MOS12 Capsule Slip Ring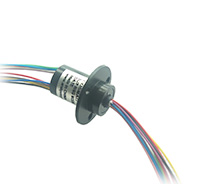 The capsule slip rings are the ideal solution for signal and data transmission under even the most demanding conditions. Wherever space and or weight are restricted.
MOS12 was a standard capsule slip ring, diameter 12.5mm, length can be from 15mm to 24mm, miniature compact design with gold contact, can top to 18 circuits, high performance color lead wire. Perfect for transfer precision signal,low current. Small torque, low noise and loss, non-maintenance.
Features
2-18circuit models
1.5A,240V AC/DC or high
Speeds up to 250 rmp
Gold-on-gold contacts
Precision ball bearings for long life
Benefits
Mounting flange
Low torque minimizes system torque budget
Low torque
360° continuous rotation
Rapid delivery