STR007 Through Hole Slip Ring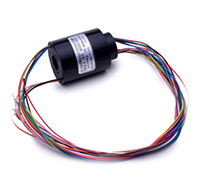 A slip ring can be used in any electromechanical system that requires unrestrained, continuous rotation while transferring power and / or data from a stationary to a rotating structure. A slip ring is also called a rotary electrical interface, electrcial collector, swivel, or a rotary joint.
The STR007 series slip ring with 7 mm hole for installation, and compact 24.8 mm outside diameter for minimal space applications.
Features
6-36 circuit models
2A,250V AC/DC
Speeds up to 250 rmp
Gold-on-gold contacts
Precision ball bearings for long life
Benefits
Extremely compact
Low torque minimizes system torque budget
Low torque
360° continuous rotation
Rapid delivery